Bagi user galaxy y perlu coba room creeds ini. CREEDS merupakan costume room yang diport oleh pratyush.creed untuk galaxy y..room ini sudah memiliki beberapa versi,dari perkembangannya sudah ada v2.0,v2.1 dan v2.5..oke deh yang da g sabar mau coba room ini,monggo di sedot.
ROM INFORMATION :
Adb/Hard Root - Access to Android Commander

Soft Root- SU

Pre Deodexed

ZipAligned

Maps With WorldWide Navigation

Bloatware Removed

BusyBox Support

No Auto Sms To Mms Conversion

No Receipient Limit

Built In 5 Theme




Touchwiz App(Samsung Home) :

Transparency Level Increased

Alphabetical Auto Arrange

andscape Orientation Intoduced




Auto Brightness Option in Display

Boot Animation Enabled

Custom Boot Animation Added

Custom Power On Sound

Reduces Startup Time ~Less Than 13 seconds




14 Status Bar Toggles

All 5 From Samsung(Wifi,B/T,Soung,GPS,Orientation)

Data

Lockscreen-Off

FlashLight

Shut Down Options

Reboot,Recovery & Download modes

Airplane Mode

Brightness

Auto Synchronise

Screen Timeout

(Note: Select Your Toggles and their order from Menu>Quick Panel Settings App)




Swipe To Remove Notification

ICS Circle Lock (from stock)

More Bloatwares Removed

20mb less size that before
CARA INSTALASI :
Flashing menggunkan
CWM 4 or CWM 5
Sebelum dan Sesudah Flashing Silahkan Wipe data, wipe cache dan dalvic cache.
SCREENSHOT :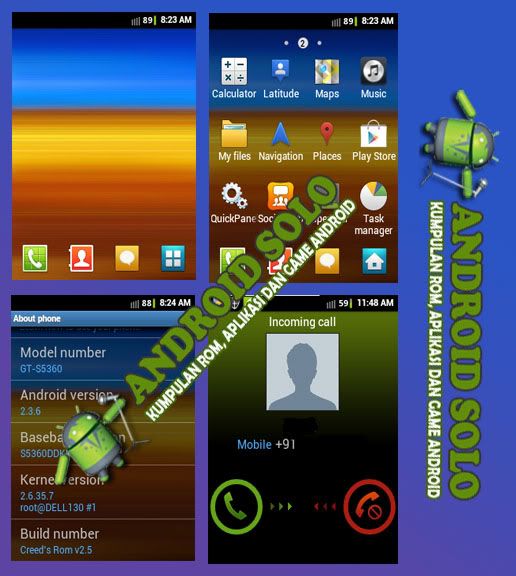 PASSWORD : klik DISINI